Consider Donating to the Staff Emergency Fund Today!
Financial hardship, from unforeseen personal emergencies, can occur at any time. The Staff Emergency Fund was launched during a pandemic, but with your support, it will continue long past the immediate crises. 

By Dec. 5, 2020, the Staff Emergency Fund contained $30,000 in donations and contributions from individual donors, Staff Assembly, Human Resources, and campus leadership. Within days of opening applications, 62 staff across UC Davis requested financial support for up to $1,000. To date, 36 staff (28 Health and 8 Davis campus) have received financial support from the initial funds.
"We started the Staff Emergency Fund to help staff and their families through emergencies," remarked Christine Lovely, Chief Human Resources Officer. "We quickly exhausted the fund, which means we need to quickly raise more money because staff are facing some incredible financial challenges."
What Gets Funded?
Donations to the Staff Emergency Fund will provide assistance - up to $1,000 - when a staff member cannot cover some basic need due to a demonstrated financial hardship. In January, every dollar in the Staff Emergency Fund was awarded to cover staff expenses for dependent care, past due rent/mortgage, past due utility bills, food, transportation, and funeral costs of close relatives.
Help Grow the Fund!
---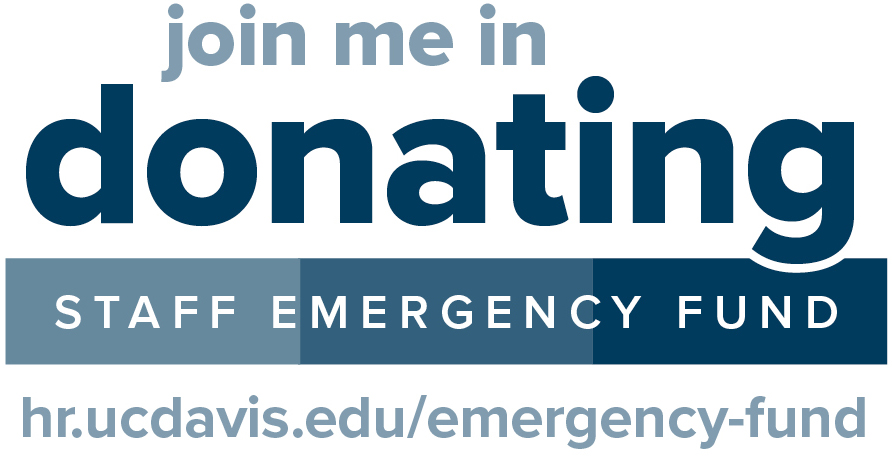 Help Spread the Word
Encourage someone else to donate to the Staff Emergency Fund by using these Zoom backgrounds, email signature lines and newsletter blocks. Thanks in advance!
>>  Read More
Thank you for considering donating to the Staff Emergency Fund to assist our staff members in need!
Tags