UC Davis Named a Best Employer for Women
Ranked 3rd among educational institutions statewide by Forbes, UC Davis is proud to be recognized as an employer that supports and empowers women in the workplace. 
"The COVID-19 pandemic has disproportionately affected women around the nation," according to Forbes. "Many women have left the workforce due to childcare demands, stress, low pay and a lack of opportunities. In many cases, COVID-19 has amplified the burden felt by women."
Thanks in large part to efforts by Human Resources and the Office of Diversity, Equity and Inclusion, UC Davis is meeting the evolving and complex needs of all employees.
We understand the value of having diversity represented at all levels of our institution, so we are dedicated to hiring and supporting women in their careers and personal lives. This is how we best serve our students, patients and the State of California -- by reflecting diversity of thought, backgrounds and approaches as one of the leading public research universities in the country."

— Mary Croughan, Provost and Executive Vice Chancellor
---
Advancing Equality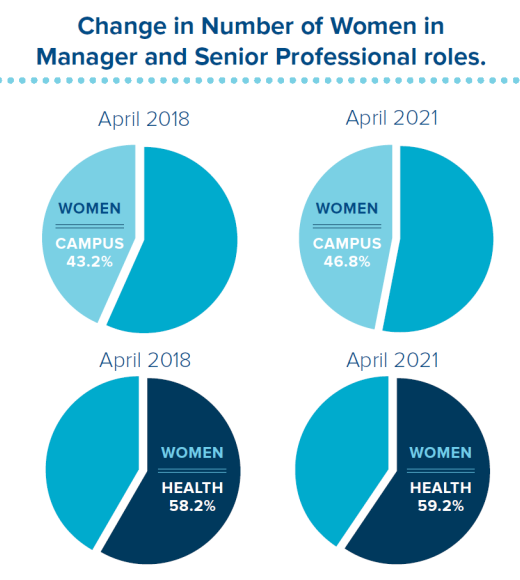 The future is looking bright for UC Davis, as more evidence reveals that we're building a workforce which better reflects the diversity of students and patients that we serve.
From 2018 to 2021, there was a 3.6% increase in the number of women in manager and senior professional roles on the Davis Campus. The number of women in vice chancellor, dean and chair positions also continues to grow.
HR is committed to further improving our programs and  practices, and providing more tools and resources for the women that make UC Davis and UC Davis Health great. Our employees are our best asset and by supporting their families, we can help them reach their full potential at work."

— Christine Lovely, Chief Human Resources Officer
Programs Making a Difference for Women and Families
Simply the Best
Not only is UC Davis a best employer for women, it's also a best employer for diversity and the number three best employer in the state. Learn what UC Davis is doing to be a best employer.
Best Employer Rankings and Awards
---
How Forbes Determined We're a Best Employer for Women
Forbes teamed up with market research company Statista to identify the companies leading the way when it comes to trying to support women inside and outside their workforces.
The list was compiled by surveying 50,000 Americans—30,000 women and 20,000 men—working for businesses with at least 1,000 employees.
All respondents were asked to rate their organizations on criteria such as working conditions, diversity and how likely they'd be to recommend their employer to others. These responses were reviewed for potential gender gaps. Statista then asked female respondents to rate their employers on factors such as parental leave, discrimination and pay equity, and to nominate organizations in industries outside their own. Representation at the executive and board levels were also factored into the final score.
More information on Forbes' methodology can be found here. 
Primary Category
Secondary Categories
Tags